Hi,
I have a Source WXP LP Hydration Reservoir 2 Liter (SOLD)
It has only been used for one 3-day hike, and it is an excellent condition.
With the Low Profile (LP), one is able to fill it with ease, even in a shallow kitchen sink, or a mountain stream.
NB: The Source WXP LP Hydration Reservoir 2 Liter, is not available in South Africa.
About
The Widepac WXP LP Hydration Reservoir fits most packs and is suitable for running, hiking, biking and outdoor activitiy. In combination with a compatible hydration pack with external cap opening, the screw-cap allows you to refill the WXP hydration bladder without removing it from the hydration pack.
The baffle wall in the middle of the water bladder maintains the low profile (LP) shape at any water level and enables the equal distribution of water weight on your back. Includes the leak-proof, high-flow Helix Bite Valve with dirt shield.
The patented Wideslide™ wide opening makes filling, cleaning and draining the bladder easier than ever – and it's 100% leakproof. All Source Hydration Systems are low maintenance & easy care thanks to our unique GlassLike™ and GrungeGuard™ technology. Water stored in a Source Widepac tastes like water and stays fresh for days and even weeks – with no plastic taste thanks to our TasteFree™ Technology!
Features
• Widepac™ closure (U.S Patent No. 7,648,276,B2) plus Large Filler Cap: User-friendly Widepac™ slide closure allows extra wide opening, easy filling, cleaning, draining, and ice insertion. Airtight seal.
• Glass Like™ Film Technology: A multi-layer Polyethylene film utilizing SOURCE's Glass-Like™ technology, which prevents bio-film build up making the system virtually self-cleaning. SOURCE's Glass-Like™ Film is 2000% smoother than standard TPU films, with virtually no difference from glass itself.
• Taste Free™ System: Co-extruded PE film retains pure liquid taste with no plastic flavor. BPA and Phthalate free.
• Grunge-Guard™ Technology: Inhibits bacteria growth on the reservoir and drinking tube surfaces for the life of the system. Technology utilized FDA-approved and EPA-registered anti-microbial agent.
• Easy Care & Low Maintenance: Glass-Like™ technology combined with Grunge-Guard™ technology represent a new generation in hydration systems, in which cleaning is no longer an issue. Simply refill and drink again and again without special care. Water will remain fresh for days and even weeks.
• Handling and coupling: WXP LP Hydration System features a Carrying Handle, Filler Handle, SQC™ SOURCE Quick Connect (QMT compatible), Helix™ Source Bite Valve, Dirt Shield™ Valve cover.
Specifications
• Triple layer taste and odor free PE film with anti-microbial agent
• Co-extruded tube
• PP, PE & POM injected plastic parts
• Silicon mouthpiece
• Weight: 250g
• Length: 20cm
• Height: 36cm
• Volume: 2 Liter
See the reviews at:
https://www.bike24.com/p2378259.html
See Source WXP LP Hydration Bladder product & how to use video at: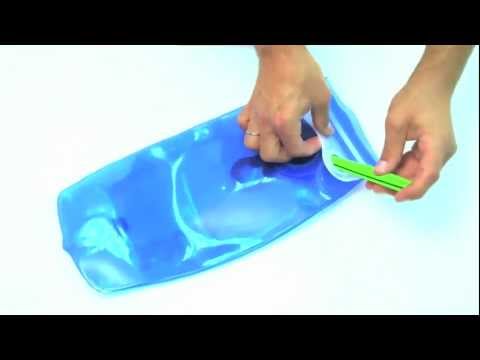 See the following website for current pricing:
https://www.bike24.com/p2378259.html
NB: Should you wish to purchase something similar, which is new, and available locally, then see:
https://www.sportsmanswarehouse.co.za/product/camelbak-crux-2l-bladder/
CamelBak Crux Reservoir 2L - Drifters Adventure Centre
Retail price: R 900
Asking price is R 750, cash on collection.
You're welcome to pay & collect in the Northern Suburbs, Cape Town.