A slightly different application…
Hi Folks,
Your comments please…
BACKGROUND & CIRCUMSTANCE
I travel and camp solo, and it's not uncommon for me to have what I call "very interesting journeys with some very surprising destinations" but, for all that, in all the 45 odd years of wobbling round SA on my own, have never ever ever been lost…
I like to tootle-off somewhere, pitch camp then hike / backpack around the area, and, these days, at 60+ and a wonky Achilles tendon, <old bike war wound> that's just about all I can manage…
Having said that, travelling solo does present certain problems, not least of which is: - What am I going to do if…
Now look, before I go any further, A Landy never get's stuck / immobilised or whatever, but the driver? Well that's a whole different barrel of pickled-fish.
And this driver can get himself stuck miles and miles from anywhere
What I needed was a means of being able to walk out, or if you will a Get Back Home Bag.
At the same time, I wanted to be able to go for a hike…
SOLUTION
So this is what I've come up with…
I've taken a 75L Backpacker Boulder, fully equipped it for 72H but left food / water & chronic meds out, and REMOVABLY strapped it to a folding golf-cart.
Working on the assumption that, for the most part, I will be able to walk back the route my Landy took getting to where I got immobilised, I stands to reason I would then, for the most part, be able to "cart" the load rather than "tote" the load. If there are parts that are un-passable for a cart, then I am able to just fold the cart, tote the backpack, get over the bad bit and carry on carting the backpack
Really, for all its bulk, it's actually very light, and I'm more than happy to sacrifice the little added weight for the convenience of "carting". (I've just packed a little less)… As for bulk, it really does fold down to just about the same size as the backpack, so that's not really an issue…
It did take about 6 trials before I hit the right cart & pack… Mostly the cart…
It's quite nice from the perspective that everything is kept in one place, no panic 30Km down the road when I find out I've left something behind. The only things I have to worry about are food / chronic meds & water… (Clothing may also be a consideration if it's jolly cold)
Also, I can use the same set up when I'm hiking / backpacking around from my base-camp. If the terrain is REALLY bad, then I can just remove the backpack from the cart and then carry the load
Hiking bag on a golf cart configured for toteing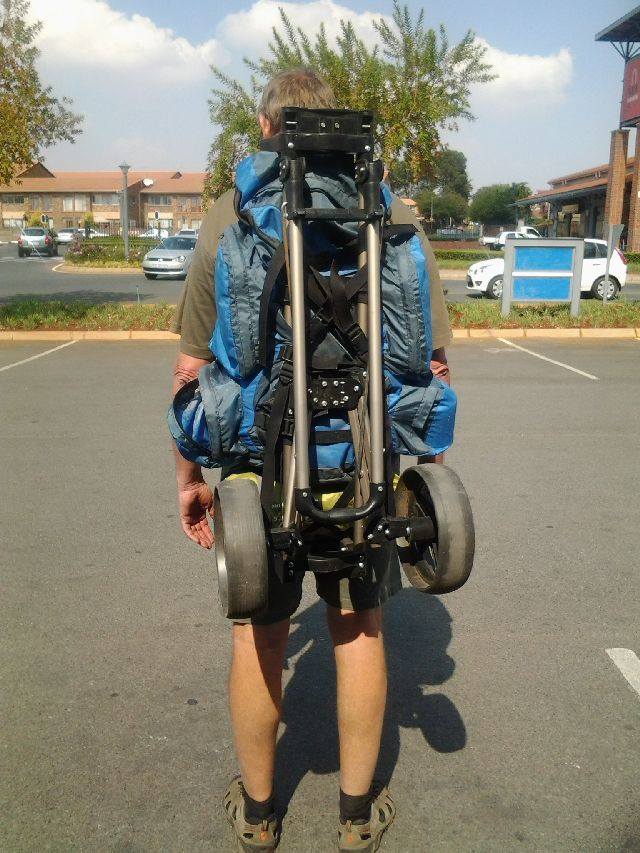 Hiking bag configured for carting