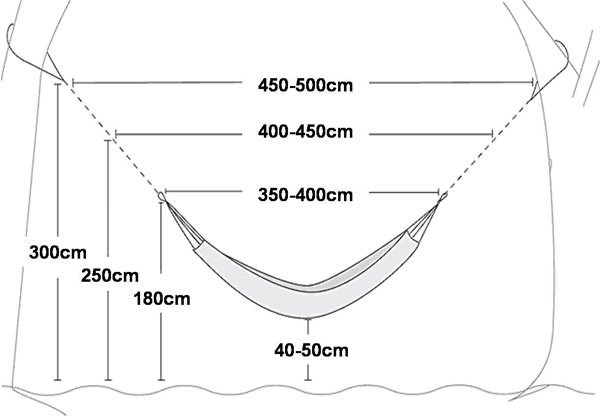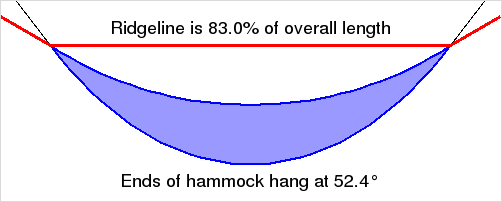 strong text
USING A HAMMOCK IS VERY EASY,JUST GET THE BASICS RIGHT. Hammock Pros
Hammocks are more comfortable than tents- Hammocks create a supportive and lump-free surface to sleep on. They cradle the body and offer support for the back and neck in a way that the ground can't. You don't have to deal with any rocks or roots under your body. A hammock also elevates you off the ground which gives them a more bed-like feel. Having a more comfortable sleep system allows you to camp for more nights without getting burnt out.

You fall asleep faster and sleep deeper in a hammock – Hammocks help you get a higher quality night of sleep. You'll wake up feeling more rested and full of energy. This was proven by an interesting study by Swiss neuroscientists at the University of Geneva. Essentially, the rocking motion that a hammock has a similar effect to a baby in a cradle. It rocks you to sleep. To read about their method of testing and results, check out the article, Why hammocks make sleep easier, deeper.

Hammocks are legal in more places- Many jurisdictions have laws against pitching tents in the city. These laws prevent homeless people from camping in city parks. Most cities don't have any laws against hanging a hammock. With a hammock, you can set up in a park or at the beach and take a nap. Nobody will say anything. If you set up a tent, you might get kicked out. Admittedly, this is kind of a loophole but it does open up the possibility of legally wild camping in more places. Of course, the legality depends on the location.

Hammocks sleep cooler- Being out in the open allows you to enjoy a cool breeze. For this reason, hammocks are ideal for camping in tropical climates and during the summer.

Condensation isn't a problem in a hammock- Hammocks allow more airflow so condensation doesn't build up like it does in a tent. Moisture evaporates away. Even when humidity is high. No more waking up in a soggy sleeping bag or having condensation drip down on you while hammock camping. You don't need to spread out your sleeping bag to dry as often either.

Visibility is better in a hammock- If someone or something is approaching while you're laying down, you can easily sit up and look out and see what or who it is. You can also look up and see the stars.

Hammocks have multiple uses- You can get use out of your hammock even when you're not camping. Bring it to the beach, park, a barbecue, or use it in your back yard. Wherever you are, you can set it up, have a swing, read a book, relax, and enjoy yourself. You're friends, family, and pets will enjoy it too. You can also use your hammock while traveling. I've hung mine at hostels, beach bars, and on ferries.

Finding a campsite is easier with a hammock in some destinations- This entirely depends on the terrain where you're camping. For example, in a forest, it may be easier to find a suitable campsite. To hang a hammock, all you need is two trees or other objects about 15 feet apart (around 4.5 meters). It doesn't matter if the ground below you is sloping, rocky, or covered in a foot of water because you'll be suspended from the trees.

Fewer creepy crawlies can get to you in a hammock- Because you're suspended in the air, it's more difficult for mice, snakes, bugs, and other creatures to get to you in the night. Before climbing into your hammock, you can simply shake it off to remove any unwanted guests that may have found their way in. Bug netting keeps mosquitoes and ticks out.

Hammocks are more durable than tents- Hammocks are dead simple. They are just a piece of fabric. You can stuff and compress them without worrying about breaking anything. You don't have to worry about jamming a zipper, wearing a hole through the floor, or breaking a pole as you do with a tent. This gives peace of mind.

Hammocks allow people with reduced mobility to camp- Some people can't get up from the ground due to knee, back, or hip problems. A hammock elevates the sleep surface. This makes it much easier to get out of bed in the morning.

You can use the hammock as a chair- One thing I miss while hiking is simply sitting down comfortably. I don't want to sit on the ground or lay down all the time. A hammock is a perfect place to take a load off your feet, eat, read, or just relax. Some campers bring a separate chair, but that's just too much extra weight for me.

Hammocks may be better for the environment- This point is a bit controversial so I'll lay out both sides of the argument to let you decide. Some campers believe that hammocks help with leave no trace because they don't disturb vegetation on the ground. In high traffic areas, tents can kill the fragile plants underneath. Having said this, you're still walking around on the vegetation around your hammock when you get in and out.

For fair weather camping, hammocks are smaller, lighter, and cheaper than tents- While camping in warm dry weather, you don't need a groundsheet, poles, stakes, tarp, or underquilt to use a hammock. A small hammock costs around $60, weighs about a pound, and takes up around a liter of space in your pack. If the weather drops below around 60° or you expect rain, you'll need an underquilt and tarp. In this case, a hammock camping setup has the same size and weight as a tent and costs about the same.

You can pack a hammock in carry-on luggage on a flight- Tents have stakes and poles that,[ according to the TSA,] HAMMOCK CONS

You need properly spaced trees, rocks, or some kind of stationary objects to hang your hammock from- Hammocks just don't work everywhere. For example, if you are camping in an alpine area above the tree line, in the desert, in a new forest where the trees are too small, or in a sparsely treed forest, finding a campsite can be nearly impossible. In campgrounds, some sites might not have suitable trees for hanging a hammock. For some camping destinations, you need a tent or bivy sack.

You have to sleep alone in a hammock- To get the best nights sleep, you'll want to sleep in your hammock by yourself. Two-person hammocks are available, but they are pretty snug. You would only want to use one with someone you're very close to. Even for a couple, sleeping together in a hammock just isn't that comfortable. You can't change position without waking the other person. In a tent, you can sleep next to your friends, spouse, or kids.

Hammocks are not stand-alone shelters- To be prepared for all conditions, you'll need a tarp and stakes, an underquilt or sleep mat, and a bug net. After you add these additional items to your pack, a hammock sleep system weighs and costs as much as a comparable tent. For this reason, it's important to compare apples to apples when comparing tents to hammocks. I'll talk more about this later.

Hammocks sleep colder- If you plan to camp in weather below about 60° F (about 15°C), you'll need some kind of insulation under your body to keep you warm at night. Your sleeping bag won't keep the underside of your body warm because the insulation is compressed by your body weight. To stay warm, you'll need an underquilt or foam sleeping mat for insulation. You'll also need a warmer sleeping bag than you would need in a tent because hammocks lose heat faster.

Hammocks offer less privacy- You're always outside in the open in a hammock. There is nowhere to change clothes, organize gear, clean your body, or just get away from people temporarily. In the backwoods, this doesn't really matter because no one is around anyway. In a campground, it's nice to have some privacy. One solution is to use an extra-large tarp. This can create some privacy.

Hammocks can be uncomfortable- Some people just don't like the feel of sleeping in a hammock. The rocking motion bothers some. Others find the sleeping position uncomfortable. You can't get completely flat in a hammock. Your head and feet will always be somewhat elevated. People who toss and turn in their sleep sometimes find hammocks to be too restrictive. Side sleepers may also find hammocks uncomfortable. You can't get your back completely straight.

You are more exposed while camping in a hammock- With a traditional hammock, your face is exposed while you sleep. This allows the opportunity for mosquitoes, ticks, and other insects to bite you. Some hammocks include a built-in mosquito net to keep bugs and critters out while you sleep. This is particularly important in buggy areas, particularly malaria zones.

You can't bring your gear inside- Hammocks are just for sleeping. You have to leave all of your gear on the ground outside. This opens up the opportunity for theft or damage from the weather. A tarp helps your gear to stay dry but it won't stay as dry as if it were in a tent. Most hammocks do include a small pocket where you can store small items and valuables.

Hammocks camping isn't allowed everywhere- Some areas restrict hammock use. For example, In Great Smokey Mountains National Park,hammock use is restricted to designated backcountry campsites. This is usually to protect trees from damage caused by hammock straps.

Hammocks can damage trees or other structures- If you don't hang your hammock properly, it can put unnecessary stress on trees. This can damage the bark or even kill the tree. The weight of a hammock could also damage or destroy a structure if it is not strong enough to support the weight. Trees should be about 6″ thick to safely support a hammock. Your straps should be at least 1″ thick to avoid damaging the tree bark.

Hammocks don't offer as much protection from the rain- If your tarp isn't big enough, rain can blow in from the sides. Water can also run down your hammock straps and onto the hammock. The solution to this is to tie some drip lines.

There is a learning curve for using a hammock properly- Finding two properly spaced trees, hanging the hammock with the proper sag, tying knots, and finding a comfortable sleeping position all take some time to learn. During the learning process, you'll probably get a few bad nights of sleep. It takes a couple of seasons to become a proficient hammock camper.

You can fall- This is rare, but it is entirely possible for a strap to break or a seem in your hammock to tear. You could also simply roll out in your sleep. It's even possible for the tree holding you up to break if you tied to a tree that was too small. This would be an unpleasant way to wake up. You could injure yourself if the ground below is rocky. To avoid injury, it's best to set up your hammock so you're not hanging too high off the ground. 12-18 inches is ideal. You should also avoid sleeping above any sharp rocks or deep water.

Hammocks take more time to set up- Every time you set up, your strap settings change because trees are different sizes and distances apart. You also need to set up the hammock and tarp separately. You need to tie some knots as well. After everything is set up, you might need to make some adjustments to get the sag set just right. After a few seasons of hammock camping, you'll get faster and more efficient.

Some hammocks are claustrophobic- If you have a hammock with a built-in rain cover or high sidewalls, it can feel like a body bag. Some campers find this uncomfortable.

Hammocks may be more dangerous in bear country- I don't know if this point is true or not but I thought I'd mention it anyway. I have read claims from other campers that bears and other wild animals may be more likely to attack you in a hammock than a tent. The reason being that tents are large and confuse animals. Even though they could easily tear it open, they don't know that. Having said this, I have not found any evidence or read any verified stories of people being attacked while hammock camping. This point makes sense to me logically though. For more info on bears, check out my guide Bear Safety Tips: How to Avoid Bears while Hiking and Camping.

You can't sleep with your pets- If you like to camp with your dog, they will probably have to sleep on the ground. Most people won't be able to get comfortable while sharing the hammock.(https://www.tsa.gov/travel/security-screening/whatcanibring/items/tent#:~:text=You%20may%20transport%20this%20item,be%20packed%20in%20checked%20bags.) must be packed in a checked bag. Hammocks are completely made of fabric so you can pack them in a carry-on bag.

You can make your own- If you're into DIY or MYOG, you can pretty easily sew your own hammock and tarp and save some money. For more info, check out this cool guide.

Hammocks are cool- Most of us grew up camping in tents. Sleeping in a hammock is a unique and different experience.