I think everyone has been unnerved by the reports of violent crimes on Table Mountain (see links to news agencies at bottom). Followed by the report of muggers targeting 60 year old retiree's in George. Then there's the reports that rarely make the news, such as a friend who joined an online informal gathering of individuals for a hike to be robbed by fellow 'hiking enthuasiast' (not affiliated with accredited organizations). In lieu of this, I went hunting for proper stats on the subject to see what exactly is going on… Are these isolated incidents or an increase in civil unrest linked to the protests that have closed some NR?
So in my search I came upon the following…
Safety Statistics:
https://sites.google.com/site/u3actwalking/home/safety
http://alewis.its.uct.ac.za/sama/db/stats-annual.php
IOL news reported on the rapid uptake of crime (see diagram) on Table Mountain during 2018 and in response several groups have begun to mobilize in order to curb similar attacks. These attacks are alarming, but considering that TMNP receives thousands of visitors annually, there should not be widespread panic. Unfortunately, the stats seem to be source-dependent…For example SAMA only lists 65 incidents in 2018-2019 related to crime.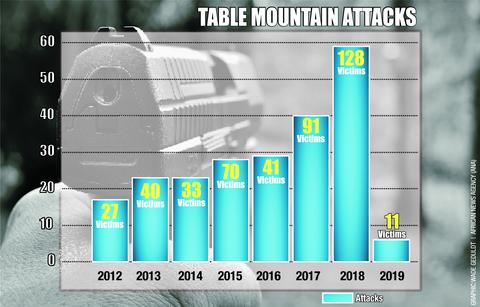 So how does one keep track of what is happening and where hotspots for crime…This is hard to say…Obviously Cape Nature posts on facebook in the event of protest action and news agencies list areas to be avoided. As the vast majority of cases occur on Table Mountain, (Newlands, Constantia Nek, Silvermine, Signal Hill, Lions head) anywhere with easy access to transportation seems to be a target. Off the beaten track areas seem to be opportunistic robberies rather than premeditated ambushes. I realize that the MCSA and Nature reserves rely heavily on the support of hikers/naturalists and would rather not report on safety issues. That said, I think allowing a quick access link to reports, such as a live tweet feed or instagram link would put hikers at ease. I would rather know than not know, but what is everyone else opinion regarding this? Is something similar already available and I just haven't found it yet?
Nature reserve protests:

Violent Crime on Table Mountain:

George Outeniqua mugging: