Jeepers! FIREBOX

Just the name makes me shudder

Love the Trangia, had mine since the early 80s and it works every time
True had my trangia 27 since the 90 's and awhile ago baught the 28; they just last and no maintenance except keeping it clean
Just got my MSR PocketRocket 2. Did some testing today. Seems to be a very hot burner.
Best thing about it, only 75g! (without gas)
Will give it a thorough test on the upcoming Fani Botha hike next week!
Hello Everybody! Sorry for only replying now. I got the Fire Maple FMS-105 as suggested by @Arno I have used it extensively by now. In the Witzenberge, Cape Point, Waboomsberge, Hermanus surroundings, and most recently the Amatola. It kept up good and I would also highly recommend it. Thank you @Arno
A MSR Windburner in its natural environment

. I'm astounded by the efficiency (average of 1x110g canister for 4days hiking)…my coffee water is done while everyone else is still scavaging to build their rock walls. Definitely not the lightest or the cheapest, but you can't beat the robustness and wind-resistance. It's a bit overkill for below treeline conditions I would recon, also not recommended for gourmet hiking food as the simmer control is not that great.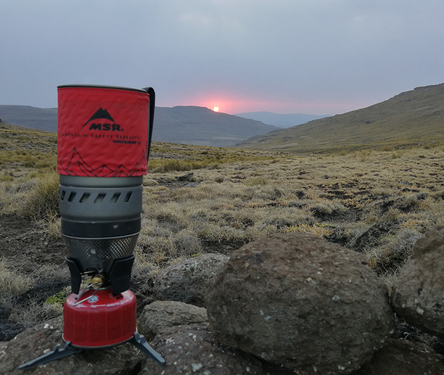 We use Sea to Summit - Alpha 2.2 cookset.
Packs like a Russian doll, weighs a mere765gm, 2.7L / 1.2L pots, 2bowls and 2cups two colours (good for arguing over whose is whose) and has loads of nifty features that aren't superfluous eg swivel handles that lock in place nice and tightly both open and closed, has little steamer gaps on lids for simmering and straining, textured base for staying put, measuring lines inside pot/cups/bowls (not too visible tho) and lids have tiny but functional silicone handles for checking up on your witches brew. Also very-very easy to clean. Comes with little dishcloth. And once the whole set has been nested together it doesn't rattle and clank inside your pack as you walk.
Have not used on fire, S2S recommend to not do so. But we're usually in wilderness areas where fire is prohibited and we stick to those rules, as that's partly why we're there…not to stick to rules but you get the drift…
It's a very well thought out piece of equipment. Can also be minimized should you so wish. Feels tough too.
That is enviable man. Impressive.
(2 cooking sessions a day?)
We're still using little MSR Pocket Rocket2 (bought on sale, I think).
Soto Amicus for a stove, which I've been really impressed with. 4 way pot stand is solid, very wind resistant as it uses an inverted burner and the pizo igniter has been flawless so far. Big enough burner head with fine controls that you can actually simmer in the right pot.
For bigger groups I've enjoyed my GSI Haulite 1.8l pot. Non stickyish aluminum, good lid, solid folding handle that holds the pot closed in your bag, nice markings, fits a 230g gas canister alongside stove and misc on the inside. Always use a cut off half sponge inside the pot to stop things from rattling around and gives me something to clean with + some biodegradable soap in eyedropper bottle.
Picked up a second hand little titanium 0.8L MSR Titan pot the other day that I'm keen to try out for lighter trips where I just boil water for myself. Will fit a 110g canister upside down and not much else in it. Very very well built though and weighs next to nothing.
Ended up with a little plastic handled mug and bowl from some GSI kit that are nothing interesting, but do their job and are lighter than titanium. Can't really justify changing them out until they die. Have had a good experience with the grey plastic Sea to Summit sporks from Cape Union. Decently sized, cheap, don't scratch coated things and pretty tough so far.
If I'm in a group with people I really like having one of those fold up fire maple gas canister stands you can get at Cape Union, they add a lot of stability. These little stoves make me nervous when there are people chatting and clomping around, have seen too many knocked over pots and feel very lucky I haven't seen anyone too badly burnt. So so happy those campingaz canisters you have to pierce have finally started to die the death they deserve. I grew up on horror stories around those gone wrong.
I use the MSR Reactor, which is sort of similar to the Windburner mentioned above. It is a bit heavy and a bit bulky, but it boils water shockingly fast and is near-immune to windy conditions, so I save a lot on gas! On almost every hike that I have been on and taken the Reactor, I have ended up boiling water for the whole group (because even boiling 3 or 4 rounds of water in the Reactor is faster than other people's canister or solid fuel stoves in windy weather). It is just not very good at simmering (it is basically on or off, although with some fiddling it is possible to get a simmer).
I have an Optimus Crux stove from https://www.sharpedge.co.za/ Folds up nice and small and has the niftiest bag that fits under the gas! I have a 750ml and a 1300ml from https://www.toaksoutdoor.com/ 750ml is for a weekend away and can fit a 110g gas canister + stove. The 1300ml is for longer trips and can fit the 230g + stove. This set is shared between my wife and I.
From what I have read the Soto Amicus is the one to go for but i'm chuffed with what I have. If anything goes wrong it's easier to sort out because I got it locally.
For me, Trangia is the best Due to cost, I did a "Local" mod so that my tranny works with a "Fire-maple" remote canister burner - - - Fire Maple burners are curently available at Outdoor Warehouse. This mod gives me redundancy (Prime = gas, First redundancy = meths).
Anyone want how I did that, let me know…
Gonna try upload a pic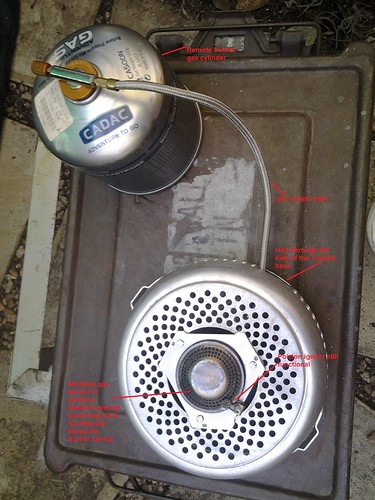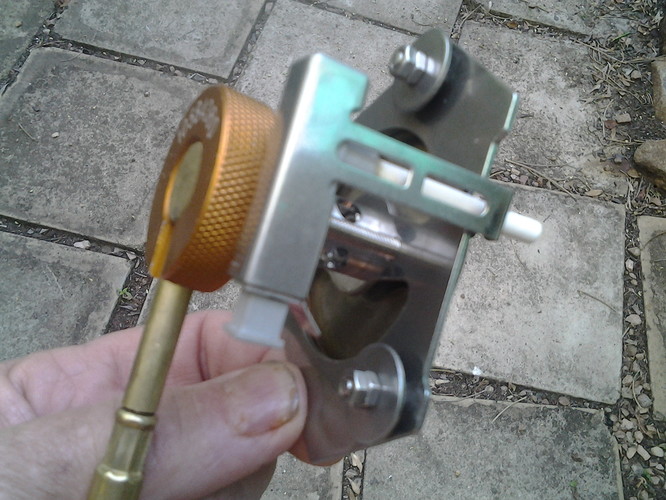 Gonna try upload a pic