Does anyone know of a free GPS hiking app that works when you are offline?
A friend of mine uses Viewranger. He maps routes and it works offline. I haven't personally used it but it works perfectly for him.
You can download maps for Viewranger and view them offline. Has become my go to. I use Caltopo to plot routes on a computer and then you can move the GPX files to use while hiking, take some learning but an amazing piece of software. Avenza maps works offline and is a nice resource for free topo maps, I tend to use it as a backup.
And when I'm mixing and matching with physical maps like the Slingsby set, I find GPS essentials really great. You can create a quick dashboard that just has what I need to know quickly (Lat/long, altitude, bearing, sunrise/sunset etc) all on one page. Weird how difficult it is just to get your lat/long with most mapping software.
Those have all worked out well for me without spending a cent, which feels a little crazy to be honest

I have used Locus Maps quite successfully. You can download offline maps.
I am a hardcore fan of Avenza Maps, you cant go wrong with the Government issue 1:50000 maps as an overlay. It doesnt have all trails on it though, so I use it in conjunction with Maps.ME. Will definitely check out Viewranger as recommended by others.
I am a big fan of using Komoot when I hike, great tracking and accurate use for hiking and MTB trails. low power consumption and useful for exploring.
I can also recommend Komoot. See https://www.komoot.com/
I use a Garmin vívosport® tracker and this syncs with both Komoot & Strava, which I use for hiking & trail running.
When I have issues with my Garmin vívosport®, or I'm doing a long hike, run, then I use Komoot on my mobile phone. You can download routes, which can be used offline.
I use Oruxmaps. I collar cropped and converted all the latest RSA 1:50000 topo maps to Orux format. Oruxmaps free was kicked off the playstore for violating Google ad policy. Orux doesnt have any adverts or allow any adverts. Free version is available on their website. If youve used it for a while you will want to take the paid app. If you want maps let me know. Works offline, you can use old phone as a gps no sim no internet, best there is and no ads. Oh and free app is identical to paid version just one version older.
Thanks Ruth for pointing out Locus Maps, it looks like the paid version allows you to georeference maps in it. Which is really great, as that means I should be able to use digital versions of the slingsby maps as a baselayer to navigate on. Have really wanted that in the Cederberg for ages, having the map I'm navigating on also telling me where the water sources are

First android one I have bumped into that will let you do that without a subscription.
Yeah, I liked the free version of Locus Maps so much that I bought the paid version just to support them

I think this depends on what you're looking for in an app.
If your mapreading skills are on point and you love a classic 1:50 000, then I'd agree with @Gerrienel that Avenza is a great app to have on your phone.

If you want sheer number of trails but are happy to sacrifice some accuracy (open-source data can be riddled with inaccuracies in places but often not to the untrained eye) and functionality, then Maps.Me is a great bet.

Komoot looks amazing but I've not used it.

If you are keen on ultra-accurate maps with detailed info behind the data but are happy to sacrifice on limited coverage, locally-made Forge is a good bet.
Hello ,
as I may mention from European view. Komoot works most easily and also offline, actually promoted by the gravel union website ( love it for offroadcycling and hiking). But you have to pay for full functionality…
Kind regards
Sonja
I'm using Off-lineMaps, free and you can download offline maps before you go to not use cell data.
I used it this past weekend hiking the Bloupunt trail outside Montagu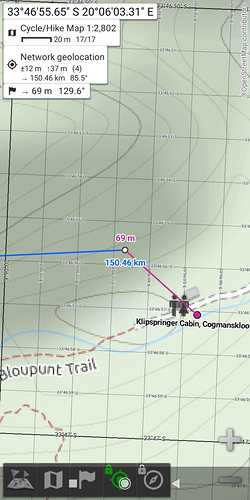 Off topic a bit, but have you had success downloading (uploading) the 1:50,000 topographical maps from the Mowbray Mapping ordnance centre to Locus maps? or any other mapping software that could then interact?
I last did this last century with Fugawi software and raster maps, I know things have moved along enormously since then, just curious as it would be fantastic to get them on my Garmin
I haven't tried with the mapping ordnance maps yet no. But what I have managed to do is use QGIS to take map image file and manually geo-referenced them, then export as a geo-referenced PDF file that loads in the free version of Avenza Maps. My main issue when I last used it was I couldn't import my own GPX files on top of it, but I think they added that in the last Avenza update.
I used this system with my digital version of the Slingsby Cederberg maps. I tediously merged all the separate map files into one complete map in photoshop and then mechanically geo-referenced the single map in QGIS. I would guess it is not perfectly accurate but when I was last in the Cederberg it worked well. Was very very happy to have a map with so much detail straight on my phone with my live location on it. Have suggested to them that they look at making their maps available like that by default.
So my guess is that you could do with this the mapping ordinance files. In fact I would assume with a lot more ease and accuracy. I haven't gotten maps from them since my student GIS days, they might actually already be in geo-PDF which Avenza will read.
Was half a year ago when I set this all up. I know I ran into an issue with Locus Maps doing this, but for the life of me I can't remember what. Just hazy images of trawling through their forums for an answer

Yep still murky waters then!
Im trying to steer away from using a mobile phone for mapping - its a frustration and battery eating monster at best.
In reality, Ill keep taking paper Maps with me. There was a Ordnance Survey Tablet a few years ago but they insisted on using proprietary maps and were UK based.
Im busy transferring waypoints from a paper map and google earth to Basecamp then onto my GPS now. Would be awesome if Garmin opened up "Birdseye" to accept the Tiff images and then anchoring them with the 4 cornered Lat and Longitude points.
I dont think Ive the energy to engage with QGIS but will look into it again (Busy downloading it now!
With you on the still liking having my paper maps, the ability to share with other people and grasp the scale works well. Plus always love looking over them in the evening.
I can't imagine going back to an actual dedicated GPS for any of the hiking I do though. I guess I don't need the battery life, precision or reliability offered by them on some level versus the clunky interfaces and weight. Everyone in the group is likely to have a cellphone which means there is redundancy, options in software/maps and I'm carrying a powerbank so can comfortably do a week of battery life.
QGIS has gotten a lot better over the years. Trick I find is to just go find a tutorial for the exact thing you are trying to do. Otherwise the swissarmy knife nature of it is overwhelming.
So its an enthusuastic NO on the uploading topographic maps to Garmin GPS.
It could be done theoretically, but would need to run through Garmin Propreitary software birdseye but essentially is a no go.
On the positive side, trying to plan river trip and Avenza Maps, works really well to share the info and ideas electronically, and with a tablet is useful.
Ive been quite happy to have a bunch of maps on my phone as a back up, back up, backup! but still its not paper
From context it has sounded like you guide things so I get the backups backups approach

Pity about the Garmin side. Wish everyone would get over their propriety software when there is so many great opensource GIS platforms out there to be developing on. Glad to hear Avenza is working though, always found ti a bit crude but has been getting a lot more useful quick and replaced Viewranger for me which seems to have been bought and merged with something else.