We are getting a puppy next week. The idea is to find places where we can hike and take him with, partly for safety and partly because he is supposed to be our best friend

I think this will be a nice topic to exchange information about hiking trails that would allow dogs and also just exchanging tips and important things to know before you take your dog on a hike.
I know I can google this, but I haven't yet found anything other than cottages where you can take your dog with and then go walk a bit around the place, or parks where again, you can go walk around a bit. I'm more interested in proper hiking trails. Something like Magoebaskloof (I doubt they allow dogs) could be nice, but even places without overnight huts. I must admit, I haven't thought the tent issue through yet. Our hiking tent is very small, but I figure we can squeeze in.
Background info about the dog: We are getting a Golden Retriever. We think it's a good fit for what we want. Intelligent, trains well, loves walking, loves swimming, will bring us food when we run out.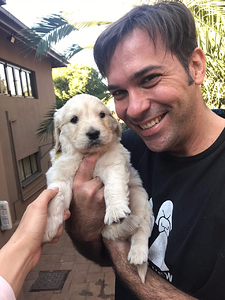 Shameless bragging, I know. His eyes are far apart, so he will obviously be trustworthy and have great peripheral vision.
Ok, so let's get started, who knows some dog friendly hiking trails?