Hey guys,
Can you buy shoulder pockets seperately and attach it (I've no idea how) to your multi/or day pack?
You definitely can and they are really handy, I like having one on my left to hold my phone/suncreen/snack etc. For some reason feels a lot more 'at hand' than hipbelt pockets. I'm looking to also try a small soft drink bottle shoulder pocket to save me the hassle of reaching back to grab a bottle while walking

The one thing you will need though is some sort of daisychain attachment on your shoulder straps to attach the pocket to.
The other issue is I don't know of anyone in SA that sells those sort of accessories

Hopefully someone else has a suggestion. Pretty easy to get in the US, loads of options and many of them do ship here. Gossamer Gear, Hyperlite Mountain Gear, Zpacks, Mountain Laurel Design, Superior Wilderness Designs, Zimmerbuilt.
I've got one from Hyperlite I quite like. A zipped main pouch and an open front pocket, plus pretty waterproof for a phone. Nice set of features overall. Would suggest something not too bulky or loose, as I can imagine having it swing around would get old fast. The all lycra stretch front pockets in the running vest style seem like they could be cool, locks the content down and can hold a 500ml bottle.
Hi, if you look at the Hyperlitemountiangear website, you'll find what you're looking for at a high price! https://www.hyperlitemountaingear.com/collections/accessories
Consider USD40, plus freight, etc. to get it landed, it is crazy.
You might instead consider the Inov-8 RACE ELITE WAIST BELT
See https://www.runstore.co.za/women/accessories-women/hydration-vests-running-belts-ladies/race-elite-waist-belt/
I can fit up to a 500ml soft flask on the outside, and a 420ml, or 250ml soft flask inside, plus my Inov-8 Storm Shell Rain Jacket, emergency blanket, small medical kit, keys, etc. inside.
I use it for road run training, and races from 10km to Half Marathons (21.1km), also trail running (adding it with my running hydration vest) 30km, and also for hiking (peak bagging).
Enjoy,
Ian
Good point, a waist pack thing is a nice option particularly if you are wearing a day pack. Can be a bit fiddly with a larger pack if it clashes with the hipebelt.
Agree on the hyperlite prices

gets a bit crazy, and they seem to have only gone up these days. I have also never managed to get anything into SA without import tax. I've gotten a bit lucky taking advantage of any spare space in friends luggage coming back from the US haha.
Check out Tactical Distributors.
https://www.tacticaldistributors.co.za/search?controller=search&s=pouch
They have a bad reputation with orders and deliveries so best option would be to go to the physical store and hope that they have it in stock.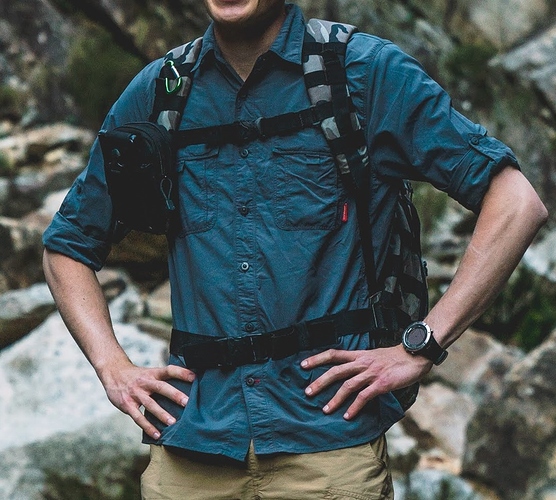 https://www.tacticaldistributors.co.za/pouches-and-accessories/825-2587-nc-star-molle-hydration-bottle-pouch-various-colours.html#/3786-colour-tan
https://www.tacticaldistributors.co.za/pouches-and-accessories/1766-6680-edcutility-molle-phone-pouch-various.html#/3750-colour-black
Oh! This is perfect!! Thank you @Spaniel !!
look into Military "molle" systems City guns and Safari outdoor in Cape Town have stock of several options.
Also Cameraland in Cape Town have a few smaller pouches that will fit onto the shoulder straps.
Hi Spaniel.
Are you carrying a military design day pack?
I have a Source Assault 20L day pack, with MOLLE webbing, and purchased some pouches from Tracital Distributors in JHB. They work well.

Hi Ian.
I can't find my specific bag online but its a K-way backpack similar to this one:

I don't know if they still make mine.
This is mine: