Topographical prominence is a scientific measure for the base-to-top height of a mountain. The easiest way to describe it is - if you flood the earth till that mountain becomes the highest point on its own island, how high would the summit be above sea level.
For example - Everest is already the highest point on its island, so its prominence is its height.
By contrast - Lions Head is far from being the highest point on its own island, so we would have to flood the earth (figuratively speaking) till the saddle between Lions Head and Table Mountain was at sea level, and thus the height difference between that saddle and the summit would be Lions Head's topographical prominence.
Here's a diagram off Wikipedia that illustrates it very well: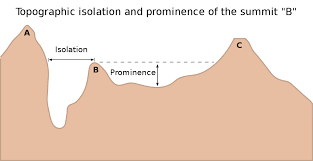 A full survey of the every summit on earth with at lease 100m prominence was conducted based on satellite data and posted online - being a 300+MB text file, link available if anyone would like to look at it (not conducted by me). I took this data to create a list of every mountain in South Africa - with a mountain being defined as a summit with:
At least 200m prominence
At least 7% prominence relevant to height
A height of at least 500m
Naturally definitions are subjective, the UK uses 1000ft (305m) as a minimum height, but seeing as SA's highest summit is 2km higher than the UK's, 500m seems more reasonable. 7% prominence is the requirement used in the Himalaya, and a 200m minimum was included to reduce the number of small hills that make the list.
The result was a list of over 2500 mountains in SA. This data is simply a GPS co-ordinate, height and prominence - so anyone who would like to help populate peak names is welcome to help me with this. Many probably don't have names - and who doesn't love to climb "beacon 381" in the middle of nowhere?
Of these mountains, 24 had over 1000m prominence. Incidentally both Drakensberg summits with 1000m prominence are actually in Lesotho, thus leaving the Western Cape with 18, Eastern Cape with 3 and Limpopo with 3. The other 6 provinces have none.
After hours of work researching this, I managed to find the names of all 24. The list is as follows, in order of prominence, height listed as the final number:
Du Toits Peak (Du Toitsberge, Western Cape) 1974m
Seweweekspoort (Klein Swaartberg, Western Cape) 2303m
Matroosberg (Hex River Mountains, Western Cape) 2232m
Sebrakop (Piketberg Mountains, Western Cape) 1446m
Tierberg (name uncertain, beacon 53 on map) (Swaartberg Mountains, Western Cape) 2130m
Cockscomb (Baviaanskloof Wilderness Area, Eastern Cape) 1722m
Blesberg (Swaartberg Mountains, Western Cape) 2069m
Pilaarkop - name uncertain (Riviersonderendberge, Western Cape) 1665m
Groot-Winterhoek Peak (Winterhoek Mountains, Western Cape) 2037m
Keeromsberg (Kwadousberge, Western Cape) 2056m
Mannetjiesberg (Kammanassie Mountains, Western Cape) 1935m
Sneeuberg (Cederberg, Western Cape) 1979m
Grootberg (Grootvadersbosch/Boosmansbos Wilderness Area, Western Cape) 1603m
Sneeukop (Skurweberg, Western Cape) 2054m
Buffelshoek (Hex River Mountains, Western Cape) 2059m
Marakele Peak, name uncertain, Beacon 25 (Groothoek, Limpopo) 2135m
McLear's Beacon/Table Mountain (Cape Town, Western Cape) 1077m
Iron Crown (Wolkberg, Limpopo) 2121m
Groot-Winterberg Mountain (Groot-Winterberg, Eastern Cape) 2369m
Ga-Monnaasenamoriri (Blouberg, Limpopo) 2046m
Misty Point (also known as Dassieshoek Peak) (Leeu Rivier Berg, Western Cape) 1698m
Roodezandberg/Saronsberg (Groot-Winterhoek Mountains, Western Cape) 1473m
Compassberg (Sneeuberge, Eastern Cape) 2502m
Simonsberg (can't find a range name, its basically free standing, Western Cape), 1399m
Naturally I have now embarked on the rather arbitrary task of trying to summit every mountain in SA with at least 1km prominence. I did a recent Western Cape trip to get the ball rolling, with 3 of them successfully summited - Du Toits, Matroosberg and McLear's Beacon. Writeups on those 3 will follow soon. Hopefully next up - the 3 in Limpopo, although access to two of them is proving tricky.